ELEVATE LEADERSHIP PROGRAM FOR EMERGING LEADERS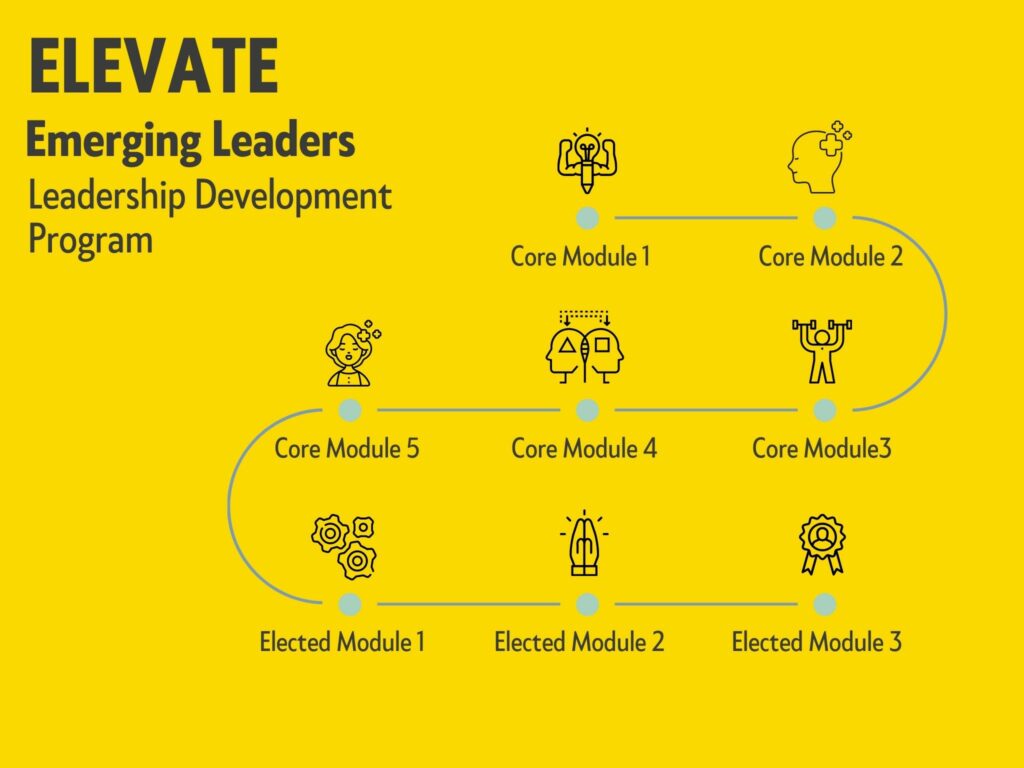 Join our ELEVATE Leadership Development Program for Emerging Leaders, with 8 days of specialist facilitator led training to equip you for leadership success.
Our leadership training is both practical and interactive, connecting emerging leaders and inspiring you with new tools and skills to keep you and your teams moving forward in the challenging and changing workplace.
In person or virtual workshop options

5 x Core Modules – 5 days
3 x Elected Modules – 3 days

Facilitator led
Practical application of skills
Ongoing support at all stages of the program
Active learning by interacting with and supporting peers
Recognition certificate upon completion of all 8 modules
COST PER PERSON:

5 x Core Modules (5 days) $3,025 +GST
3 x Elected Modules (3 days) – from $1,550 +GST*
*Final cost will be calculated once the Elected Modules have been selected.

GROUP TRAINING COST: 
POA
Learn and apply foundation principles required to manage your team effectively. Whether you are a potential supervisor or new to supervising staff, this course will cover the basic principles of supervising, combined with practical information to build expertise to guide your team with confidence.
The overall aim of this module is to:
Increase understanding of the role and responsibilities of a supervisor
Increase adaptability to communicate effectively
Develop capacity to create a motivating work environment (including managing former co-workers)
Conduct constructive feedback sessions in the workplace
Extended DISC® provides a framework for more productive interactions. It acts as a map to improve and enhance professional and personal communication. Participants complete an online extended DISC questionnaire and receive a full report. The report is full of strategies to build self-awareness and understanding in self and others while developing adaptive communication skills.  
The overall aim of this module is to:
Build on strong communication and interpersonal foundation skills
Understand different styles of behaviours and communication, strengths and limitations in self and others
Adapt to different styles to increase empathy, rapport, influence and trust
Deal with challenging styles more effectively
Gain a clear understanding of the major features and Apps offered with Microsoft 365 for Business (formerly Office 365). Use Microsoft cloud-based solutions to increase efficiency, workplace collaboration and productivity. 
The overall aim of this module is to:
Gain an overview of the applications
Get started with SharePoint
Get started with TEAMS
Get started with Microsoft 365 Apps
Leading an effective meeting requires more than just having an agenda to follow. Learn best practice techniques for leading in person, online and hybrid meetings and effectively record the minutes and actions.
The overall aim of this module is to:
Understand how to facilitate effective and efficient meetings
Create outcome driven agendas
Provide techniques to engage and lead people towards collaboration
Know what to put in and what to leave out of the minutes
Make it easier to get the right things done. The increase in digital intensity, work increase, and hybrid work environments can lead to feeling overwhelmed and even burnout. Find out how time management and productivity can be simplified for work/life balance and hybrid work environments. 
The overall aim of this module is to:
Discover the real time management issues being faced today
Apply measures to accurately assess for analysis
Explore focus and attention with mindset
Create effective routines with better methods
Digital tools to support
Tips for hybrid working
Elected Modules – to total 3 days of training
Targeted modules that are designed for Emerging Leaders. The ELEVATE Leadership Development Program can be completed by individuals or groups from the same organisation. It is expected that the journey will be completed within a 6-month period.
Contact us to make a booking today!
Call 08 9218 9059 or email leadership@ati-mirage.edu.au