INNOVATE LEADERSHIP PROGRAM FOR LEADERS OF LEADERS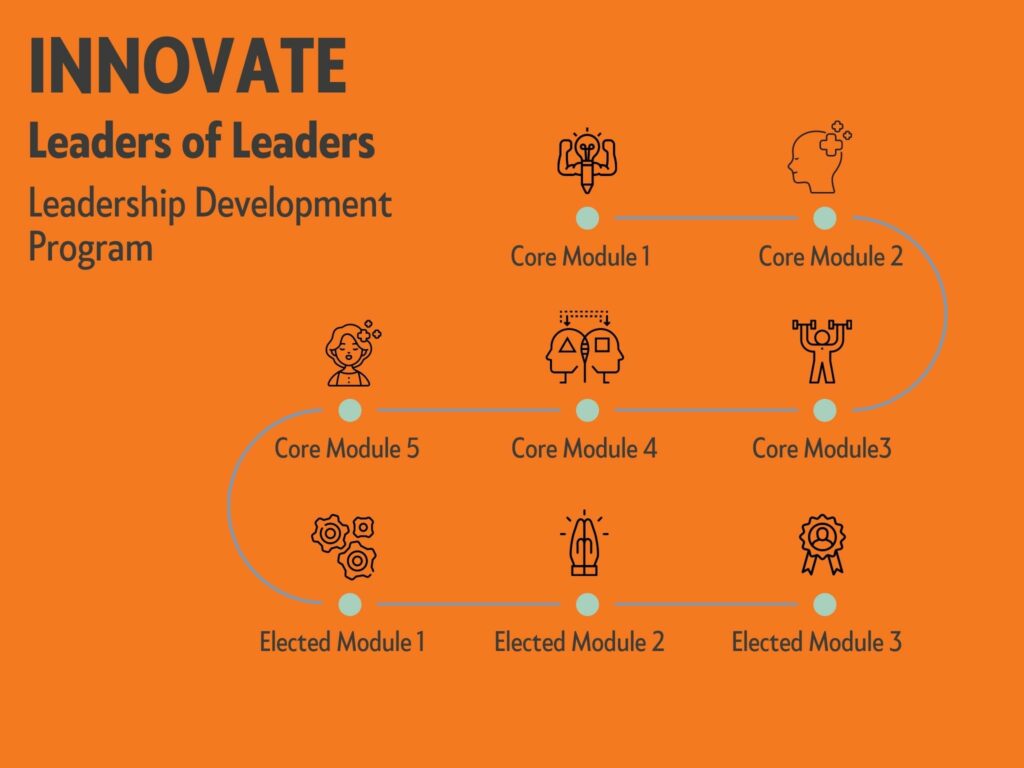 Join our INNOVATE Leadership Development Program for Leaders of Leaders, with 9 days of specialist facilitator led training to equip you for leadership success.
Our leadership training is both practical and interactive, connecting leaders and inspiring you with new tools and skills to keep you and your teams moving forward in the challenging and changing workplace.
In person or virtual workshop options

5 x Core Modules – 6 days
3 x Elected Modules – 3 days

Facilitator led
Practical application of skills
Ongoing support at all stages of the program
Active learning by interacting with and supporting peers
Recognition certificate upon completion of all 8 modules
COST PER PERSON:

5 x Core Modules (6 days) –  $3,770 +GST
3 x Elected Modules (3 days) – from $1,740 +GST*
*Final cost will be calculated once the Elected Modules have been selected.

GROUP TRAINING COST:
POA
We are in a new leadership era. Authentic leadership starts from the inside, out. Using the intelligence of the world wide popular extended disc, we have created a measure that develops your leadership skills for the current, changing work and team environment.
The overall aim of this module is to:
Provide an individualised review of personal leadership competencies with measures, and a focused approach to development
Measures of wellbeing factors for resilience and performance (self and team)
Leadership behaviours (influence, change, achieving goals)
Management behaviours (adapting to pressure, time and prioritisation, supervision, driving performance)
Fine tuning communication styles
Workplace and work team changes require innovation to adapt to constantly shifting challenges.  Leaders and teams (hybrid or co-located) need a robust way of creatively solving problems efficiently and effectively. Critical thinking enables leaders at every level to understand the impact of their decisions on the business as a whole. Robust decision-making processes ensures both alignment with organisational goals and accountability for results.
 The overall aim of this module is to:
Identify the barriers that inhibit thinking ability and apply more effective reasoning in decision-making.
Provide knowledge and tools to confidently and creatively solve current workplace challenges using effective research-based techniques
Explore your 'thinking toolkit' of effective frameworks
Whether you are communicating and setting agreements with customers, suppliers, team leaders/ members or stakeholders, your negotiation skills directly impact the result you get. Apply a win-win collaborative approach to negotiation to produce better outcomes for yourself and your organisation. Plan your negotiations for positive, long-term results.
The overall aim of this module is to:
Define negotiation, influence, persuasion
Negotiation types and styles and when to apply them
Build influencing skills
Conduct an effective negotiation meeting.
Manage difficult behaviour
Leaders play a significant role in managing change within their organisation especially in rapid changing environments.  In increasingly competitive and fast-changing times, frontline leaders have a major responsibility to ensure that the organisation's products, processes, practices and culture are responsive and nimble.
The overall aim of this module is to:
Explore change as a norm and business as usual
Implement a change framework
Identify and manage reactions to change (why what you say is not what people hear)
Engage in effective change conversations
Data driven analysis and decision making, requires a data driven culture. Reliance on clean and accurate data is an important factor in securing, managing, interpreting and communicating. Discover the features of Power Automate which enables you to connect several online services such as Outlook, Excel and SharePoint to automate common business processes saving you time!
The overall aim of this module is to:
Understand data fundamentals
Build a data driven culture
Understand data driven decision making
Understand and build simple flows from templates to assist in automating and managing business processes
Elected Modules – to total 3 days of training
Targeted modules that are designed for Leaders of Leaders. The INNOVATE Leadership Development Program can be completed by individuals or groups from the same organisation. It is expected that the journey will be completed within a 6-month period.
Contact us to make a booking today!
Call 08 9218 9059 or email leadership@ati-mirage.edu.au