While delivering a Microsoft Teams course recently, I was asked about my favourite features. I thought this blog would be a great way to share some of the features of this increasingly popular software, so here goes.
My favourite Teams features are:
PowerPoint Live
Whiteboard Templates
The Ranking Poll
Viva Insights
"What are these?" I can hear some of you ask. Read on . . .
PowerPoint Live
This feature allows you to present your slides directly from Microsoft Teams; you don't have to start PowerPoint, run a Slide Show, and then share your screen. The main advantage is that it is all contained within your Teams Meeting window, where you can see:
your audience (with cameras on),
the chat window,
the slide that you are currently presenting
your speaker's notes for that slide
thumbnails of subsequent slides
You don't have to keep moving your head from one screen to another; you can look straight at your audience, seeing exactly what they are seeing and your memory joggers on your speaker's notes. You then have the choice of which slides to show next, allowing you to be more flexible with your presentation, and skip certain slides if you are running behind.
Many a time, I have run virtual workshops straight from my laptop, without a second screen; PowerPoint Live makes it a seamless and easy task.
Apart from being great for the presenter, PowerPoint Live also enhances the experience of the attendees with features such as slide translation and subtitles translation. There is currently a good selection of languages available for a one-click translation. So, you could be presenting your slides written in English, and have someone in France seeing your slides in French, and someone in Spain, seeing them in Spanish. Other languages currently supported include Chinese, Italian, German, Indonesian, Japanese and many more, with even more under development.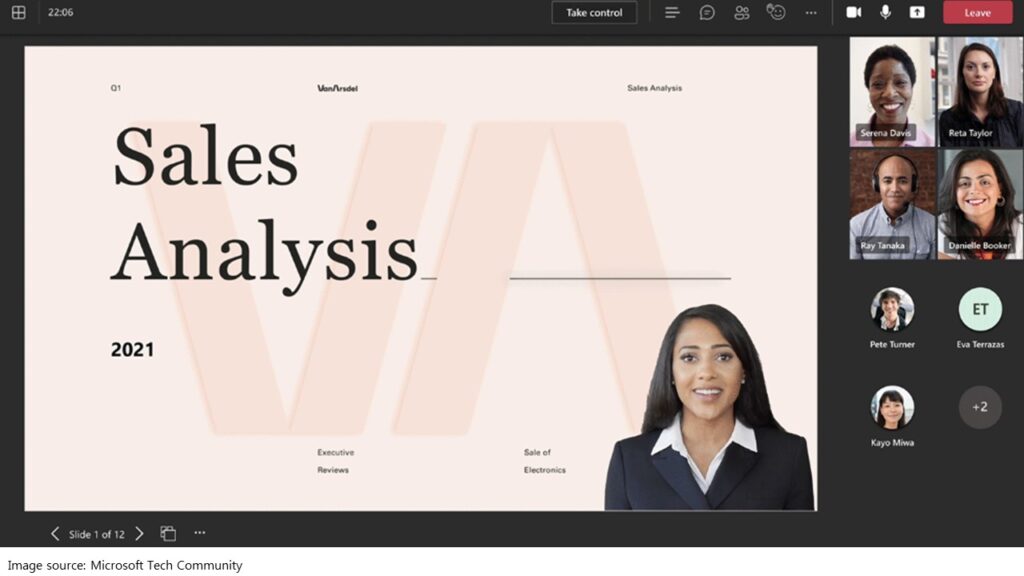 Whiteboard Templates
A virtual whiteboard is a feature available in several online meeting tools, whereby the presenter can display a whiteboard and write on it. If presenting through a tablet with a stylus, the writing and viewing experience can be as good as the physical whiteboard. Presenters can also allow virtual attendees to write on the whiteboard, thus fostering collaboration and teamwork for problem-solving, brainstorming, ideation, etc.
Microsoft Teams takes this feature to the next level with a wide variety of whiteboard templates that allows for more focused and directed collaboration. Anyone who has tried to use the normal virtual whiteboard with more than 2 other people at the same time can attest to the chaos that results on the screen, and the need for better coordination and defined areas for input by each person. This is where a template is very useful; it guides participants as to exactly where and what details are required.
Over 50 templates are currently available, and they are categorised into: Brainstorming, Problem-Solving, Strategy, Project Planning, Design & Research, Workshops and so on. Here you will discover old favourites such as SWOT, Cost-Benefit Analysis, Pros & Cons, SMART etc.
Some of the templates that I use for collaboration, problem-solving, debrief or team-building include Cause & Effect Diagrams, Stop-Start-Continue, Two Truths & a Lie, Empathy Maps and the Sailboat. And I have created my own Six-Hats template.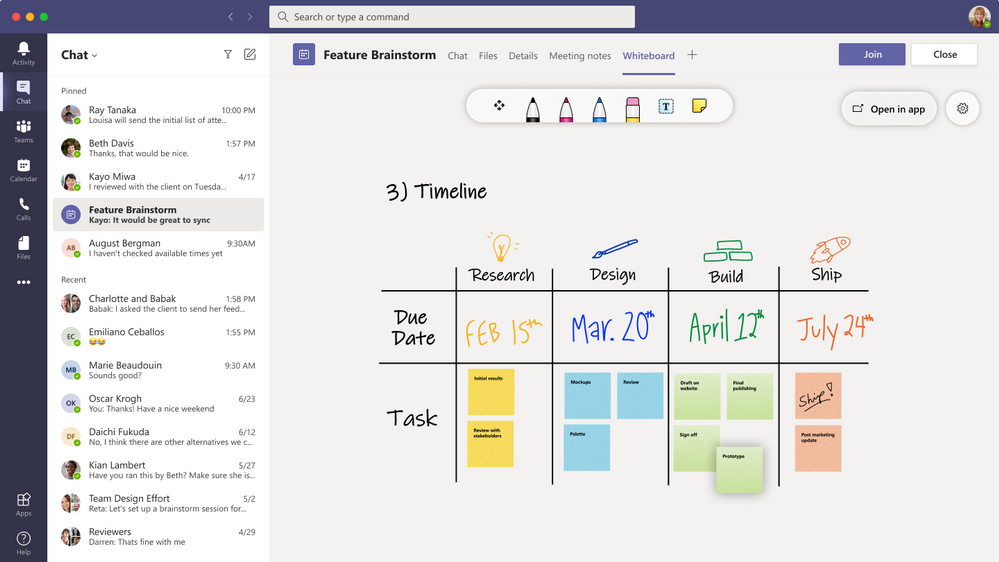 Ranking Poll
Polling is another feature available in several online meeting tools. This one allows the presenter to quickly ask questions to the audience and easily capture, collate and present the results of these questions.
Most of the tools offer only a multiple-choice poll type. Microsoft Teams offers other types such as Word Cloud, Rating and Ranking. The latter was only released in Aug 2022 and is my favourite as it allows participants to rank a list of items in order of their preference. This is much more useful in certain settings where a single or multiple-choice is too restrictive. Examples where I have used Ranking Polls include: a list of Values statements, a list of Reward options, favourite dishes or drinks, a list of Emotional Triggers, and a list of Procrastination Behaviours.
Viva Insights
This little add-on is a great tool to help anyone create balance in their life. It provides a wide variety of tools such as creating focus times, mindfulness activities, scheduling downtimes, reminders for sending Praise Badges (another little gem in  Teams), etc. Plus, it can send you daily emails summarising tasks coming up, emails to follow up, etc. You can think of Viva Insight as your own Personal Assistant, helping you stay on top of your work, whilst looking after your well-being.
It can also help you with your meeting habits, by providing insightful stats about your past meeting behaviours such as how many meetings you organised, how many you were invited to, how long they lasted, how many were virtual, etc. As most of you probably experience, meetings can be such a drain on your energy and your time, and any data to help improve your habits and behaviour in this area is very insightful.
And the Inspiration Library of Viva Insights is chock-full of Harvard Business Review and other articles on Well-being, Culture, Resilience and Impact. I highly recommend the following: Rediscover Joy at Work, 5 Practices to make your Virtual Workplace Inclusive, How to say No after saying Yes, and 4 Ways to spark Creativity when feeling Stressed.
Do try some of these Microsoft Teams features and drop us a note about how much you enjoyed them and the difference they are making in your work life.
Interested in knowing more about Microsoft Teams?



If you want to learn more about this popular collaboration tool, join our Microsoft Teams workshops – click here for more details.
Blog written by Dr Rambo Ramdianee | ATI-Mirage's Senior Consultant – IT & PD