Need tailored training or customised business solution?
We can help!
Our Perth-based team of friendly, highly skilled consultants, coaches and facilitators can custom develop a solution for you.
In today's world of industry disruption and rapid change, you need to partner with experts to help you to steer and sail through priorities and impact.  At ATI-Mirage we believe where there is hi-tech there needs to be hi-touch, with  
the right strategy, 

 

technical skills and 

 

people skills

 
People need the right skills and we can help you to achieve it with:
knowledge-set, 

 

mind-set, 

 

skill-set and 

 

tool-set 

 
Professional Development Consulting
Success in this decade requires a holistic approach. Seismic shifts in the way organisations operate, work and manage their people are occurring. 
Change means new challenges to meet and overcome, and you don't need to go it alone. Our team of trainers, consultants and coaches can help you to achieve your goals. We have a range of profiling tools, techniques and frameworks to assist organisations, teams and individuals get results and thrive.
Make change and transition easier with our solutions, skills, knowledge and support in:
Leadership development

Change Management (Including Activity Based Working)

Organisational change
Culture change
Adapting to change

Team building and team effectiveness

Call Centre Service and Performance

Training Needs Analysis and Skills Audit

Strategic Planning and execution

Process Improvement

Organisation strategy, culture and values

Employee engagement and alignment
Can't find what you need?  Talk with our friendly Client Solutions team today! 
IT Consulting Services – Customised Training & Business Solutions
ATI-Mirage are the leaders in Western Australia for delivering IT consulting solutions using the Microsoft 365 platform. Most organisations are utilising the Microsoft 365 Platform however many are not maximising its full potential to drive greater productivity. The team at ATI-Mirage understand the need organisations have to capitalise on their IT investment, they will help you unlock its true potential. We provide solutions to individual business problems and support your processes incorporating PowerApps, Power Automate, Power BI, SharePoint, and Microsoft Teams.
We offer our IT expertise to help you find solutions to streamline your business processes and improve how your organisation operates in today's digital workplace.
Our solutions include:
Power Automate (workflows) solution design and development 
PowerApps forms solution design and development
SharePoint workflows and development
Power BI solution design and development
Microsoft 365 (Office 365) customised organisational training
Migration to cloud solutions
Consulting advice on the best apps to suit your workplace requirements
Tailored IT solutions implementation
The provision of documentation and training for customised processes and systems
Ongoing training and support services when required
Business process benefits:
Provide analytics and insights into business efficiency
Streamline your organisations' tasks and business processes
Automate document generation and approvals
Improves user interface and engagement
Process optimisation to boost productivity
Supports data cleansing to extract unique insights for organisations
Dashboard reports to gain valuable insights
Supports your people to maximise their desktop technology
Save time and money   
Training options
ATI-Mirage have the right training solutions for your organisation. We can customise solutions for you and your team and we have a scheduled program of training across the year. The range of options we provide include facilitator-led training, virtual training, closed group, roving training, and 1:1 training programs.  
Selected Applications overview:
Microsoft Power Apps:
MS PowerApps provides a rapid application development environment to build custom apps for your organisation needs. Using PowerApps, you can quickly build custom business apps to connect your business data stored in various online and on-premises data sources (SharePoint, Excel, Office 365, Dynamics 365, SQL Server, and so on). These can all be accessed from either browser, desktop or mobile platforms.
We have included a video overview of Microsoft Power Apps for you and hope you find it useful.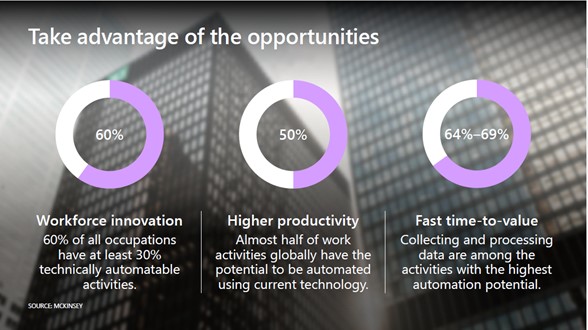 Power Automate
Power Automate is cloud-based software low-code/no-code solution that creates and automates actions and tasks across multiple applications and services, within and outside the Microsoft environment. Power Automate includes workflow/approval processes from simple email approvals to multi-step processes across several applications.  The Power Automate application has the power to replace workflow processes that previously would have taken days into hours or even minutes.  Imagine the impact on your organisation!
We have included a video to demonstrate the power of Power Automate to assist you.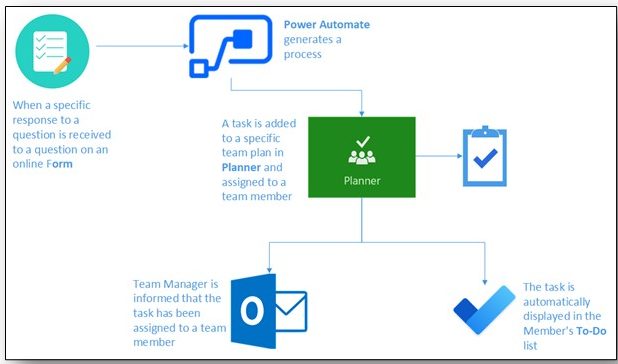 A multi-step workflow process with Power Automate
A multi-step workflow process with Power Automate
This process utilises Power Automate to connect Microsoft Forms, Planner, and To-Do to trigger tasks needed for a specific response to a question on the form.
To gain a valuable insight into how these applications can work effectively together, please watch ATI-Mirage recent webinar – Work Smarter, not harder with Office 365.
MS Power BI
Power BI is part of the suite of tools from Microsoft which enable data to be analysed and published from a variety of sources.  With training it will transform your data query from unrelated sources into stunning interactive data dashboards to provide detailed business reporting.
With data from different sources, such as Excel spreadsheet, CSV, Web or SQL server Power BI enables you to easily connect to your different data sources, visualize, and discover what is important, therefore empower the team to provide appropriate information to organisational leaders giving the right information at the right time.
For a video overview of Microsoft Power BI, please click here.
IT Consulting/training services tailored to meet your organisations goals
There is so much we can do to enable your organisation to be more productive and innovative.  We help you unlock the value of your technology investment.   Call us today on 08 9218 9059  for a Complimentary ATI-Mirage IT Consultation, ask to speak with Billy Howarth – Lead Consultant IT or send an email by clicking here.
Schedule a Coffee, select a time that suits we can help you and your organisation be more productive.
Department of Water and Environmental Regulation
"The 10 participants, who are emerging leaders and starting to take on responsibility for the implementation of frontline management initiatives in the department, have benefited from the opportunity to further develop their people skills and competency managing and leading a team, developing priorities and managing operational plans. Your input was invaluable and the Department appreciates the time and effort you've applied to making this important process both relevant and meaningful".
"ATI-Mirage recently delivered a variety of workshops to assist Landgate employees successfully manage a significant business improvement and change management process. The workshops were designed to enable our people to maximise their opportunities for roles within, or outside of our business. 95% of participants indicated that, overall, the training met their expectations. ATI-Mirage provided us with a range of training courses that met our needs, and the needs of our people, delivered professionally and constructively".
"WorkCover WA recently completed a desktop refresh that included all staff receiving a new computer complete with a new standard operating environment. With ATIM's help we were able to customise a training approach that ensured 132 users had the tailored support they needed. The training was completed within the agreed timeframe and we were very happy with the results. The team at ATIM are professional, friendly, and accommodating - I'd highly recommend them".