ACCELERATE LEADERSHIP PROGRAM FOR MID-LEVEL LEADERS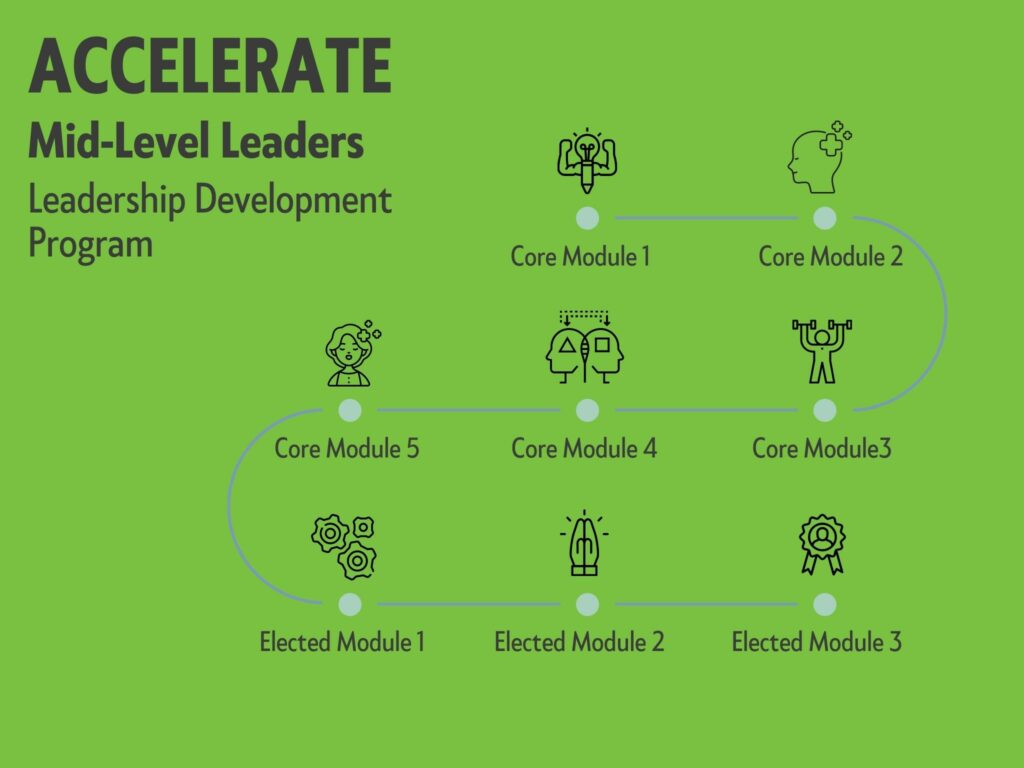 Join our Accelerate Leadership Development Program for Mid-Level Managers, with 9 days of specialist facilitator led training to equip you for leadership success.
Our leadership training is both practical and interactive, connecting leaders and inspiring you with new tools and skills to keep you and your teams moving forward in the challenging and changing workplace.
In person or virtual workshop options

5 x Core Modules – 6 days
3 x Elected Modules – 3 days

Facilitator led
Practical application of skills
Ongoing support at all stages of the program
Active learning by interacting with and supporting peers
Recognition certificate upon completion of all 8 modules
COST:

5 x Core Modules (6 days) –  $3,280 +GST
3 x Elected Modules (3 days) – from $1,410 +GST*
*Final cost will be calculated once the Elected Modules have been selected.

GROUP TRAINING COST: 
POA
Leaders are responsible for moving individuals and organisations forward; they set an appropriate example and lead the way.
The overall aim of this module is to:
Understand the fundamental differences between management and leadership
Identify effective leadership styles and practices
Engage and align you team
Explore the nature and impact of positive leadership practices
Build your personal capacity to lead
Hybrid work teams have become an immediate focus. The importance of leadership to cultivate collaboration and connection in a hybrid working environment is critical to success. Crucial to organisational performance for people is to feel understood, respected and cared about which requires leaders to shape their workplace experience and culture.
The overall aim of this module is to:
Understand the nature of hybrid work teams
Define and influence a strong hybrid workplace culture
Identify leadership skills required for hybrid work teams
Identify how people want to individually feel and not feel at work
Understand the difference between values and emotions
Understand how emotions can drive behaviours
Conflict management can be a challenge, especially in effectively handling difficult conversations. Learn tools and techniques to remaining professional while handling difficult conversations to increase a co-operative and positive outcome.
 The overall aim of this module is to:
Understand the nature of conflict and behaviours for co-operation
Apply a framework to engage in difficult conversations for a co-operative outcome
Responding when someone has a difficult conversation with you
Provide effective feedback
The latest research highlights the importance of emotional intelligence as the single most effective business skill in these changing times. Managing your emotions effectively enables you to be more productive, positive and interact with others more constructively.
The overall aim of this module is to:
Explore emotional intelligence and how it drives behaviours
Build emotional intelligence skills
Reduce drama and get work done.
Businesses thrive using Excel as a key tool to record, manage and capture data. Consolidate your knowledge of formulae and functions, sort data, filter database and create customised charts.
The overall aim of this module is to:
Understand cell referencing including link workbooks and calculate across sheets
Work with named ranges, functions including VLookUp & HLookup functions
Work effectively with data including validation, conditional formatting and subtotals
Create pivot tables, charts to reflect information effectively
Elected Modules – to total 3 days of training
Targeted modules that are designed for Mid-Level Managers. The ACCELERATE Leadership Development Program can be completed by individuals or groups from the same organisation. It is expected that the journey will be completed within a 6-month period.
Contact us to make a booking today!
Call 08 9218 9059 or email leadership@ati-mirage.edu.au